Music Connection
10:30am - 5pm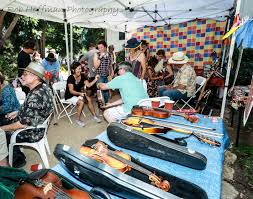 Experience and try an entire zoo of instruments! Visitors can meet trumpets. flutes, guitars, and pianos while trying them out and seeing what their favorite is. Ever wanted to try a guitar? Think you are ready to play the piano? Come visit us in the Music Discovery Tent!
See, hear, and experience a broad range of the violin's music while learning more about one of the world's most popular instruments.
Join local emerging singer / songwriters, Mikaela Hall and CJ for a presentation of their original music and experience their young talent.
Join members of the Universal African Drum and Dance Ensemble for a special presentation of their percussion and drumming talent.
Bring the little ones for song, dance, and fun! Start your festival day off by moving to the music, shaking the tambourine, ringing the bells, and rattling the shakers!
Come hear the music of your favorite "Jurassic" summer blockbuster performed on violin and cello by Adam and Julia Hansen.